Roma Business Facilitators (for North Macedonia and Serbia): internal and external job competition
Operating Countries: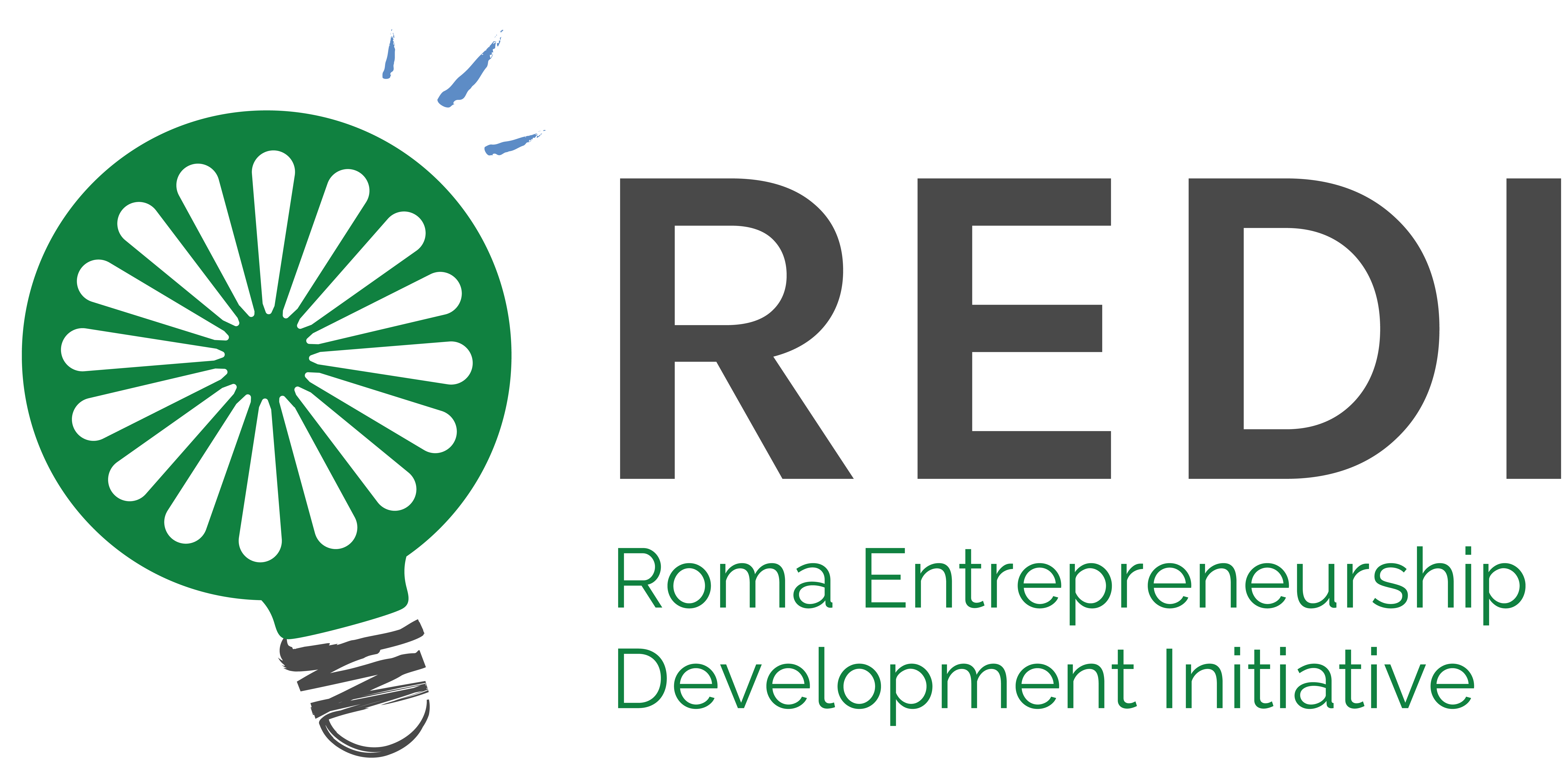 GDPR Compliance - As part of any recruitment process, REDI NGO collects and processes personal data relating to job applicants. The organisation is committed to being transparent about how it collects and uses that data and to meeting its data protection obligations. Data we collect: your name, address and contact details, including email address and telephone number; details of your qualifications, skills, experience and employment history. Your data will be deleted after six months.
Roma Entrepreneurship Development Initiative (REDI) is looking to hire dedicated Roma Business Facilitators in the frame of the project "ADVANCING ROMA ENTREPRENEURS IN THE WESTERN BALKANS" that is implemented starting with the 6th of July 2021 for a period of three years (2021-2024) in Serbia and North Macedonia, with the financial support of Directorate-General Neighborhood and Enlargement Negotiations (DG NEAR) of the European Commission, the European Union.
REDI is a regional non-governmental organization covering Eastern Europe and Balkans, currently operating in Bulgaria, Romania, Serbia and North Macedonia.
The Roma Entrepreneurship Development Initiative (REDI) supports Roma entrepreneurs in developing their businesses and accessing affordable financing from microcredit institutions and banks. REDI's mission is to sustain and create +20,000 jobs in the Roma communities by 2023 by enabling existing entrepreneurs to receive funding and business development services so that they can accelerate their business growth and provide jobs in the Roma communities.
The business facilitators will be responsible for mapping Roma entrepreneurs and providing them support to develop their business and apply for financial measures. They will organize field visits and support the REDI team in organizing meetings and discussions with the local Roma entrepreneurs.
Attend theoretical and practical training modules on business facilitation
Map 120 new Roma entrepreneurs and re-assess the needs of the existing entrepreneurs in the REDI database 
Support female and male Roma entrepreneurs to apply for grants, government measures and loans to develop their business
Organize field visits, discussions and meetings with Roma entrepreneurs
Monitor and collect data on indicators for the progress of entrepreneurs
Report field activities on a monthly basis
Participate in all meetings, trainings, events, and other project activities
Completed secondary or higher education.
Experience in working with the Roma community 
Strong desire and readiness to work on the field
Knowledge and understanding of the local context of the Roma community in their locations
Sense of collective interest of the Roma community and motivation for positive change
Recognizable in the Roma community
A person of trust and integrity
Proficiency in Macedonian/Serbian languages. Knowledge of English and Romani language will be an advantage.
Basic knowledge of MS Office with a focus on Excel
Excellent communication skills
Organizational skills
Иницијативата за Економски Развој на Ромите – РЕДИ
бара да ангажира посветени бизнис фасцилитатори во 
рамките на проектот "РАЗВОЈ  НА РОМСКИТЕ ПРЕТПРИЕМАЧИ НА ЗАПАДНИОТ БАЛКАН",
што ќе да се спроведува почнувајќи од 6ти Јули 2021 за период од три години (2021-2024) во
Србија и Северна Македонија со финансиска поддршка на Генералниот директорат за преговори за соседство и проширрување (DG NEAR) на Европската комисија, Европската унија.
РЕДИ е регионална невладина организација што ги опфаќа Источна Европа и Балканот, а моментално работи во Бугарија, Романија, Србија и Северна Македонија.
Иницијативата за Економски Развој на Ромите – РЕДИ ги поддржува ромските претприемачи во развојот на нивните бизниси и пристапот до достапно финансирање од микрокредитни институции и банки. Мисијата на РЕДИ е да одржи и да создаде +20.000 работни места во ромските заедници до 2023 година, овозможувајќи им на постојните претприемачи да добијат средства за финансирање и развој на деловни активности, за да можат да го забрзаат нивниот раст на бизнисот и да обезбеди работни места во ромските заедници.
Бизнис фасцилитаторите ќе бидат одговорни за мапирање на ромските претприемачи и обезбедување поддршка за развој на нивниот бизнис и аплицирање за финансиски мерки. Тие ќе организират посети на терен и ќе го поддржат тимот на РЕДИ во организирање состаноци и дискусии со локалните ромски претприемачи.
Посетување на теоретски и практични модули за обука за бизнис фасцилитирање

Мапирање на 120 нови ромски претприемачи и повторно проценење на потребите на постојните претприемачи во базата на податоци на РЕДИ

Поддршка на женски и машки ромски претприемачи да аплицираат за грантови, владини мерки и заеми за развој на нивниот бизнис

Организирање на теренски посети, дискусии и состаноци со ромски претприемачи

Следење и собирање на податоци за индикаторите за напредок на претприемачите

Пријавување на активности на терен на месечно ниво

Учествување на сите состаноци, обуки, настани и други активности на проектот
Завршено средно или високо образование.

Искуство во работа со ромската заедница

Силна желба и подготвеност за работа на терен

Познавање и разбирање на локалниот контекст на ромската заедница на нивните локации

Чувство на колективен интерес на ромската заедница и мотивација за позитивни промени

Препознатлив во ромската заедница

Личност со доверба и интегритет

Владеење на македонски / српски јазик. Познавањето на англиски и ромски јазик ќе биде предност.

Основно познавање на MS Office со фокус на Excel

Одлични комуникациски вештини

Организациски вештини
Inicijativa za razvoj romskog preduzetništva (REDI) želi da angažuje posvećene romske biznis fasilitatore u okviru projekta "NAPREDOVANJE ROMSKIH PREDUZETNIKA NA ZAPADNOM BALKANU", koji se sprovodi od 6. jula, 2021. godine u periodu od tri godine (2021-2024.) u Srbiji i Severnoj Makedoniji, uz finansijsku podršku Generalnog direktorata za susedstvo i pregovore o proširenju (DG NEAR) Evropske komisije, Evropske unije.
REDI je regionalna nevladina organizacija koja pokriva Istočnu Evropu i Balkan, a trenutno deluje u Bugarskoj, Rumuniji, Severnoj Makedoniji i Srbiji. Inicijativa za razvoj romskog preduzetništva podržava romske preduzetnike u razvoju njihovog poslovanja i prustupu finansijama od strane mikrokreditnih institucija i banaka. Misija REDI-ja je da odži i stvori +20.000 radnih mesta u romskim zajednicama do 2023. godine omogućavajući postojećim preduzetnicima da dobiju sredstva i usluge poslovnog razvoja kako bi mogli da ubrzaju svoj poslovni rast i obezbede posao u romskim zajednicama.
Biznis fasilitatori biće odgovorni za mapiranje romskih preduzetnika i pružanje podrške za razvoj njihovog poslovanja kao i podnošenje zahteva za finansijske mere. Organizovaće posete na terenu i podržati REDI tim u organizovanju sastanaka i diskusija sa lokalnim romskim preduzetnicima.
Pohađanje teorijskih i praktičnih trening modula za fasilitaciju biznisa
Mapiranje 120 novih romskih preduzetnika i ponovna procena potreba postojećih preduzetnika iz REDI-jeve baze podataka 
Pružanje podrške Romima i Romkinjama preduzetnicama prilikom prijavljivanja za sredstva, mere Vlade i kredite u cilju razvoja njihovog poslovanja
Organizovanje terenskih poseta, diskusija i sastanaka sa romskim preduzetnicima
Praćenje i prikupljanje podataka o pokazateljima napretka preduzetnika
Učešće na svim sastancima, obukama, događajima i drugim projektnim aktivnostima
Završeno srednje ili visoko obrazovanje
Iskustvo u radu sa romskom zajednicom
Snažna želja i spremnost za rad na terenu
Znanje i razumevanje lokalnog konteksta romske zajednica na njihovim lokacijama
Osećaj kolektivnog interesa romske zajednice i motivacija za pozitivne promene 
Prepoznatljivost u romskoj zajednici
Osoba od poverenja i sa integritetom
Poznavanje makedonskog/ srpskog jezika 
Znanje engleskog i romskog jezika je prednost
Osnovno poznavanje MS-ofisa sa fokusom na Exel
Izvrsne komunikacione veštine 
Organizacione sposobnosti